WATT is Going On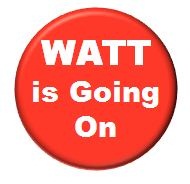 WATT's your dream vacation? Perhaps it's a day off. By participating in United Way events and activities, or by exploring various communication channels such as websites and the digital communication boards, you can earn your way into a drawing for a United Way Day prize (paid day off).

Here are the different opportunities to earn WATTS based on engagement and awareness. Earn 100 WATTS by Sept. 28 and you will be entered in the drawing. One card/entry per employee. Cards will be validated. Turn completed cards into Kathy Palmer, OF151.

Need a WATT card? Have a question? Email cpgunitedway@cummins.com.

PRE-AWARENESS SURVEY – 25 WATTS
Aug. 20-Sept. 7: Fill out the pre-campaign United Way Awareness survey and look for the code. Plant employees without email can fill in print form from their supervisor. https://www.surveymonkey.com/s/cumminspre-campaignsurvey

DISCOVER CPG EVENT – 10 WATTS
Aug. 23: Visit the United Way table for a stamp. Discover CPG is in the East Shop Lunch Room, Fridley plant, 11:30 AM – 3 PM.

MICROSITE – 15 WATTS
Aug. 31-Sept. 14: Visit the United Way microsite. Code is hidden on website. www.onan.biz/UnitedWay

SOCIAL CAST – 10 WATTS
Sept. 6-21: Join CPG United Way group Social Cast (Community) to get the latest news and updates on the campaign. https://cummins-com.socialcast.com/home

KICK-OFF! – 10 WATTS
Sept. 10: Visit United Way table at your location from 11 – 1 PM.

ACTIVITIES PUNCH CARD – 10 WATTS
Sept. 10-21: Purchase activities punch card for $25. More details on microsite.

DIGITAL COMMUNICATIONS – 15 WATTS
Sept. 12-21: Watch the digital communication boards for a code.

ONLINE PLEDGING WEBSITE – 25 WATTS
Sept. 13-21: Visit https://donor.united-e-way.org online pledging website and look for the secret code.
Campaign Code: Cummins 2012
Username: (your wwid)
Password: give2012.

ATHLETIC APPAREL DAY – 10 WATTS
Sept. 14: Wear your favorite team jersey. $2, $5, or $10. See Calendar of Events for more details.

SILENT AUCTION – 10 WATTS
Sept. 17-21: Visit the Silent Auction website for the secret code. www.32auctions.com/cpg2012

CARNIVAL – 15 WATTS
Sept. 18-19: Participate in one carnival activity.
Sept. 18, 2-4 PM, CPGO
Sept. 19, 2-4 PM, Fridley plant

POST-AWARENESS SURVEY – 25 WATTS
Sept. 24-28: Fill out the post-campaign United Way Awareness survey. Link to online survey will be available here when the survey is available. Print form will be made available.